Our Meat Selection
Here's The Beef!
At Jeff's Fresh Meats, we carry the cut of beef you're looking for.  If we don't have exactly what you want, we'll custom cut it for you. For all occasions, all seasons, the barbecue or the oven, we carry only quality cuts. It's what's for dinner.
Pork – The Other White Meat
Pork is a highly nutritious – And Delicious! – source of protein. It is also a great way to add variety to your diet. Jeff's Fresh Meats offers the leanest cuts of pork available to keep your meals healthy and appetizing.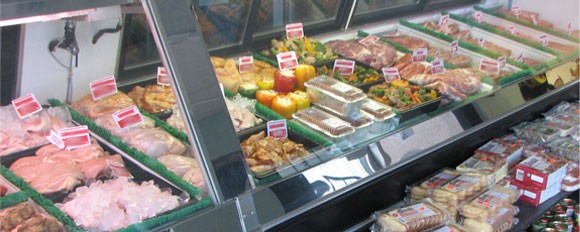 Poultry
Poultry is one of the most abundant and versatile meats available. Jeff's Fresh Meats always has a large variety of fresh, high quality poultry products available. Local fresh eggs and chicken are the most common source for poultry meat, but we also have other poultry products available. Turkey is also available on request. NOW all Chicken is Anti-Biotic and Hormone Free
Specialty Meats
The staff at Jeff's Fresh meats always goes out of their way to make sure our customers get what they ask for. If you require a special cut, just ask. We also have a selection of ready-to cook and prepared meat dishes available to give you easy options for quick meals.
Meat Loaf, Stuffed Peppers, Crown Roasts, Rack of lamb, Chicken Cordon Bleu, Stuffed Chicken, Stir Fry, Shishkabobs, Prepared Chicken Wings, Sausages, Stuffed Pork Tenderloin, and Bacon Wrapped Fillets.