We're more than just a meat market!
Jeff's Fresh Meat Market has been your friendly neighborhood butcher for more than twelve years. Our family-owned shop provides you with the best selection of top quality meats.
Pure and Natural
Our customers are important to us. When you make requests, we listen and stock the products you ask for.
We understand that meat is expensive and that a meal just isn't a meal without it. That's why we keep our prices low and our quality high. You won't just receive Grade A quality meats, you will receive the finest cuts that are tender, juicy and flavourful.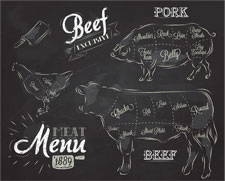 No Assembly Required
In addition to our fresh meat cuts, you will find a large selection of sausages, shish kabobs, deli-style meats and much more. For the busy, on-the-go shoppers, we have a ready variety of pre-packaged meat entrees – our ready-to-cook meatloaf is the best!
Jeff Farron has been in the business a long time and knows what his customers want – cut-to-order freshness with personal service. We don't stop at just providing you with roasts and ribs, we will assist you with any cooking information you need to create a sumptuous meal that the whole family will enjoy.
Don't forget to ask us for our famous Honey Garlic Rib recipe!